Our 60 page booklet is a layman's guide to motor coach air conditioning. There are no big words, scientific explanations or lawyer-speak terms to contend with. It will help you to understand how air conditioning works, and what you can do to maintain yours without spending a fortune at every service stop. $25. including postage, easiest to just use paypal, or call and use Credit Card.
$25.00
Both Compressors, and Clutches can be purchased
by phone:

770-474-1150.
We stock NEW Bitzer and Bock compressors for modern motor coaches, and re-manufactured Carrier compressors for older coaches.  Clutches are available for practically all compressors and coach applications.  Re-manufactured compressors carry a limited two-year warranty.
Call us for MCI, PREVOST, VAN HOOL, SETRA and most other compressors and clutches,
and we will gladly assist you with finding the right part for your application.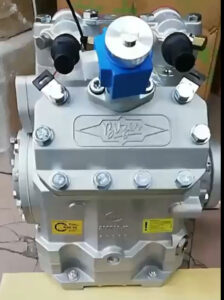 Most clutches are $675.00 and in stock.
All Clutch Kits include the clutch plate, the pulley with bearing, and the clutch coil.

Looking for an A/C part for your motorcoach, give us a call.  We offer  many additional parts for the A/C of your motorcoach. We have hoses in stock for MCI and Prevost coaches.  We offer some hoses for the Setra coach. Call for pricing.
     Just a few of our A/C parts:
Valve Set  – 05G -all 3 heads            $250.00        Compressor Hi Side Service Valve    $  95.00
O5G Hub                                                  95.00            Compressor Lo Side Service Valve      150.00
O5G Hub Nut                                         45.00            Compressor Hub Mount Seal                 115.00
Manual Pressure Unloaders    230.00 each      Compressor Gaskets                                     Call
Pressure Switches, Lo, Hi            30.00 each     Alco Expansion Valves                                85.00
Condenser Pressure Switch        95.00  R134    Sporlan Type Expansion Valves              85.00                                                               145.00  R22
RADIATORS and air coolers
now available for Most Coaches – Call for Prices
Call today and let us quote you on a radiator and/or air cooler for your coach.

We will save you money!
One thing is for certain: Your coach will not run with a bad radiator. Don't wait until you're called with a broke down coach. We can provide you with a new quality radiator complete for less than you would expect. Call with your VIN number and let us price it!
WelchIndustries provides parts and services for your coach needs.  Also feel free to give us a call. Thank you for visiting Welch Industries.
Condenser Coils – Finest! Copper Coils, Aluminum Fins
Call us for current Pricing and Purchasing of all Condenser Coils at 770-474-1150!
First Quality Condenser Coils are manufactured to exact bolt-in replacement tolerances, and are guaranteed to fit exactly as factory-new coils. Coils are available to fit many MCI and Prevost Coaches. Other coaches in progress. Please call for availability.
MCI 96, 102  & "D" Condenser Coil

MCI E & J Model

(MCI Part # 16-04-1002 – E Model – 1999 and earlier)

(MCI Part # 16-04-1261 – E & J Models – 2003 & newer)
(MCI Part # 16-04-1279 – J Model with receiver tank)
Prevost XL45

Prevost XL45
Prevost  H3-40-45

VanHool 'T' Model
VanHool 'C' Model
MCI 102 A, C, D & DL Condenser Coil
SETRA – Coming Soon

Prevost H3-45 Condenser Coil
We can fine-tune your car
Welch Industries Auxiliary Air Conditioning systems have proven themselves now for many years, providing additional cooling to enhance the comfort and utility of coaches from early 60's into the 90's, and now  into as late as 2010 models, in large and small fleets.
Auxiliary AC systems provide maximum comfort.  Designed as bolt-in accessories for most coaches, they are considered by many to be a necessity for comfort and utility.  Units are totally independent of the main AC system, so that it becomes an excellent back-up unit in case of main system failure.  Often it is possible to continue a trip without interruption even after the main system has failed.
Complete instructions are included with each unit, and the average technician can install successfully using ordinary shop tools and equipment.  A working knowledge of AC systems is needed.  Telephone support is available as needed.  Units are shipped complete with all hoses, electrical connections needed, and are tailored to fit the particular coach ordered for. Modifications will be made to your specifications for conversions, special coaches, etc.
The RE-1 Auxiliary evaporator unit is ideal for many coaches including D & DL model MCI's.  It has an integral air filter, and does a great job of helping to cool your coach.
Eagle – RE-1 – 6 or 8 volt – Please Call for Current Price  —  Unit & Installation Price Please Call for Current Price
MCI 5,6,7,8, Early 9's – RE-1 – Please Call for Current Price — Unit & Installation Please Call for Current Price
MCI D's, DL's – RE-1 – Please Call for Current Price — Unit & Installation Please Call for Current Price
MCI E Models – Unit Please Call for Current Price– Unit & Installation Please Call for Current Price
                                                                                                                                  PLEASE CALL FOR PRICING! – Any price you see here may not be current.

Prevost LeMirage w/ S-60 or 8V92 Engines – RE-1 – Please Call for Current Price — Installed  Please Call for Current Price
Prevost H345 – RE-1 – Please Call for Current Price  —   Unit & Installation Please Call for Current Price
Setra – RE1 – Unit Price $2,850.00  —  Unit & Installation Please Call for Current Price
VanHool – RE1 – Please Call for Current Price  — Unit & Installation Please Call for Current Price
RE-1 Ausiliary Unit For Most Coaches