Both Compressors, and Clutches can be purchased
by phone:

770-474-1150.
We stock NEW Bitzer and Bock compressors for modern motor coaches, and re-manufactured Carrier compressors for older coaches.  Clutches are available for practically all compressors and coach applications.  Re-manufactured compressors carry a limited two-year warranty.
Call us for MCI, PREVOST, VAN HOOL, SETRA and most other compressors and clutches,
and we will gladly assist you with finding the right part for your application.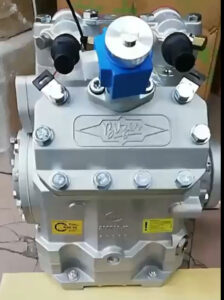 Most clutches are $675.00 and in stock.
All Clutch Kits include the clutch plate, the pulley with bearing, and the clutch coil.